NOCO GX4820 Battery Charger
Industrial Battery Charger
48V 20A UltraSafe Industrial Battery Charger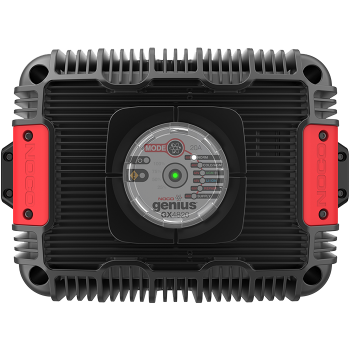 The GX4820 is a high-frequency, high-efficiency industrial battery charger for electric vehicles, like a golf cart, scissor lift, pallet jack, floor care machine or utility vehicle. It represents the latest technology for fast and efficient battery charging with multiple charging modes at a push of a button. It's universally adaptable design allowed for global use with replaceable A/C and D/C cables and designed for all types of deep-cycle lead-acid and lithium-ion batteries. And suitable for both on-and-off board applications.
A 92-precent high-efficiency 48V industrial battery charger.
Wide-range input voltages from 100-240VAC, 50-60Hz.
Charges lead-acid and lithium-ion batteries up to 425 amp-hours.
Integrated inhibit and remote LED functions.
Converts to a power supply for zero voltage charging.
Progressive repair method for sulfated batteries.
Spark-proof technology and reverse polarity protection.
Advanced diagnostics indication for damaged batteries.
Designed for rugged environments and rated at IP66.
**
( ** Click to download and save on your computer. PDF format. Adobe Acrobat viewer required for viewing.)