12 Volt - 210 Amp Hrs - Group 4D Premium Sealed Maintenance Free Deep Cycle Batteries for Marine, RV, UPS, Inverter, Solar Panel (Photovoltaic), Telcom, CATV and Stand-by Applications
The Lifeline GPL-4DL is a high performance, Mil-Spec, AGM deep cycle battery. Due to the Lifeline Battery's quality construction, it has an industry leading 2% per month self discharge rate at 77°F (25°C), compared to 10%+ for conventional batteries. The AGM technology allows for a completely sealed maintenance-free battery with no sulfuric acid leaks, no acid clean up, and more power in the same space when compared to conventional batteries. The Concorde Battery Corporation is the manufacturer of Lifeline batteries; a pioneer of the AGM technology since 1972.
The Lifeline GPL-4DL is a direct replacement for any group 4D lead-acid, GEL, or AGM batteries.
Warranty is for 5 years (First 12 months free replacement, next 48 months prorated)
Lifeline GPL-4DL Specifications:
Lifeline GPL-4DL (GPL-4D) Specifications:
Nominal Voltage: 12V
Amp Hour Capacity @ 20 hr rate: 210 a/h
Reserve Capacity @ 25 amp discharge rate: 390 mins
BCI Group Size: 4D
Marine Cranking Amps @ 32* F: 1360 amps
Cold Cranking Amps @ 0* F: 1100 amps
Weight: 135 lbs.
Length: 20.76 in.
Width: 8.70 in.
Height: 8.63 in.
Terminal Type: heavy duty L-blade (Flag)
Hardware: bolts, nuts and washer

**
( ** Click to download and save on your computer. PDF format. Adobe Acrobat viewer required for viewing.)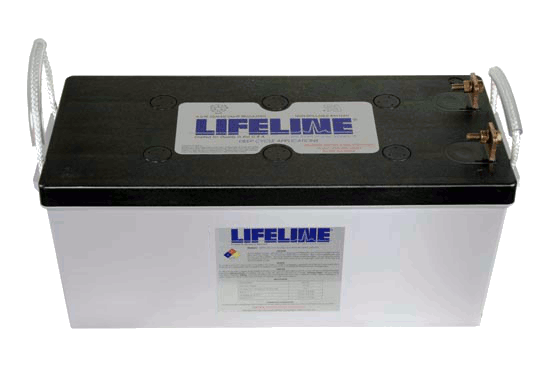 ---