Outback Power Systems GTFX2524 Inverter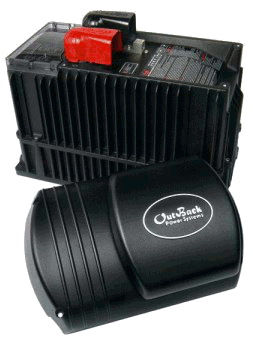 The OutBack GTFX2524 true sinewave grid-interactive inverter/charger is a complete power solution. It incorporates a DC to AC sinewave inverter, battery charger and AC transfer switch housed within a die-cast aluminum chassis. The GTFX2524 Series Inverter/Chargers give you the ability to sell solar, wind or hydro power back to the utility grid while providing instantaneous back-up power in the event of a utility outage.
A built in transfer switch automatically disconnects your loads from the utility grid and powers them from the inverter in the event of an outage, allowing you to continue using your solar and battery back-up power, unlike traditional grid-tie systems. Intelligent multi-stage battery charging prolongs the life of your batteries and built-in networked communications enables you to stack up to two units while simultaneously communicating with other OutBack Power components. The exclusive modular system architecture means that increased power output is just an additional inverter/charger away. The GTFX2524 uses a sealed chassis that can operate in the harshest environmental conditions such as high humidity and corrosive salt air.
Outback GTFX2524 (sealed) Grid-Interactive Inverter Specifications:
Continuous Output Power: 2500 VA
Output Voltage: 120 VAC/60 Hz
DC Input Voltage (Nominal): 24 VDC
Peak Efficiency: 92%
AC Input Current Maximum: 60 amps AC
Continuous DC Charge Rate: 55 amps DC
Frequency Range: 59.3-60.5 Hz
DC Input Voltage Range: 21.0-34.0 VDC
Recommended DC Breaker: Outback 175 amp breaker
Warranty: 2 years (optional 5 year extended warranty)
Weight: 67 lbs
**
( ** Click to download and save on your computer. PDF format. Adobe Acrobat viewer required for viewing.)