Outback Power Systems GFX1424 (sealed) Inverter
For Grid-Tie, Back-up or Off-grid (standalone) - 1400VA/24V 120VAC/60Hz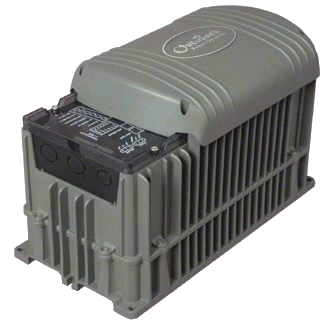 The Outback Power Systems true sinewave GFX1424 Inverter/Charger is a competitive power solution designed for applications with lower power demands. Incorporating a DC-to-AC sinewave inverter, battery charger and AC transfer relay housed within a die-cast aluminum chassis, the OutBack GFX1424 inverter/Chargers give you the ability to sell solar, wind or hydro power back to the utility grid while providing instantaneous back-up power in the event of a utility outage.
The Outback Power Systems GFX1424 built in transfer relay automatically disconnects your loads from the utility grid and powers them from the inverter in the event of an outage, allowing you to continue using your solar and battery back-up power, unlike traditional grid-tie systems. For areas that frequently experience power instability such as surges, spikes or brownouts, or where standard inverters have trouble syncing to the utility grid, the Outback Power Systems GFX1424 grid reconnect timers have been shortened to reduce overall sell-back downtime and improve system functionality.
Outback Power Systems GFX1424 (sealed) Inverter Specifications:
Continuous Output Power: 1400 VA
Output Voltage: 120 VAC/60 Hz
DC Input Voltage (Nominal): 24 VDC
Peak Efficiency: 92%
AC Input Current Maximum: 60 amps AC
Continuous DC Charge Rate: 40 amps DC
Frequency Range: 54-66 Hz
DC Input Voltage Range: 21.0-34.0 VDC
Warranty: 5 years
Weight: 49.6 lbs
**
( ** Click to download and save on your computer. PDF format. Adobe Acrobat viewer required for viewing.)