Outback Power Systems FX2524MT Inverter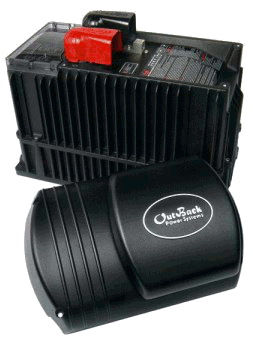 OutBack FX2524MT inverter/chargers provide true sinewave power output, and intelligent battery charging. They are modularly expandable to your power needs providing a complete power conversion solution. They incorporate a DC to AC inverter, battery charger, and an AC transfer switch, which combines 30 amp pass through and neutral/ground switching. All OutBack inverter/chargers produce virtually distortion free sinewave AC power for onboard electronics like sensitive home theater equipment andmicrowaves with minimal RF interference. Industry leading surge power starts heavy loads like air conditioning. Power factor corrected battery charging gets the most out of your shore cord and generator while maximizing the life and performance of your batteries. Ultra fast AC transfer switch with neutral/ground switching seamlessly transfers shore cord current without dropping loads. Modular expandability is achieved through networked communications, allowing your inverter system to grow with your power consumption needs.
The Sealed OutBack FX2524MT inverter/charger is the most rugged design in the world. Conformal coated circuit boards, powder coated die-cast aluminum chassis resist corrosion. No other inverter/charger can operate in extreme climate conditions, such as highly corrosive salt air, and achieve the same level of reliability and performance as the sealed FX2524MT.
Outback FX2524MT (sealed) Marine & RV Inverter Specifications:
Continuous Output Power: 2500 VA
Output Voltage: 120 VAC/60 Hz
DC Input Voltage (Nominal): 24 VDC
Peak Efficiency: 92%
AC Input Current Maximum: 30 amps AC
Continuous DC Charge Rate: 55 amps DC
Frequency Range: 54-66 Hz
DC Input Voltage Range: 21.0-34.0 VDC
Recommended DC Breaker: Outback 175 amp breaker
Warranty: 2 years (optional 5 year extended warranty)
Weight: 67 lbs
**
( ** Click to download and save on your computer. PDF format. Adobe Acrobat viewer required for viewing.)