Magnum Energy MSH3012M Hybrid Inverter & Charger
3000W 12VDC Pure Sine Hybrid Inverter Charger - MSH Series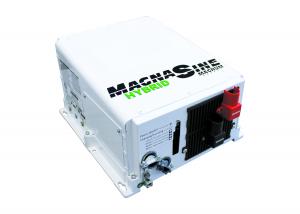 The MSH3012M Series Inverter / Charger from Magnum Energy – a pure sine wave inverter designed with true hybrid technology allowing it to run larger loads from smaller generators.
Hybrid technology: Most inverters only use one source of energy to power loads, either from incoming AC power – shore or AC generator – or from the batteries. The MSH3012M combines the energy from both sources to power loads. This allows the inverter to recharge the batteries when there is surplus power or deliver more power to the loads if they require more than the AC input can supply by itself.
Magnum Energy MSH3012M Hybrid Specifications:
Output Power: 3,000W
Output Voltage: 120 VAC
Output Frequency: 60 Hz
Output Charger Amps: 125 ADC
Input Voltage: 12 VDC
Weight: 55 lbs.
Length: 13.75 in.
Width: 12.65 in.
Height: 8.0 in.

**
( ** Click to download and save on your computer. PDF format. Adobe Acrobat viewer required for viewing.)