Magnum Energy MS2024 Inverter & Charger
2000W 24VDC Pure Sine Inverter/Charger - MS Series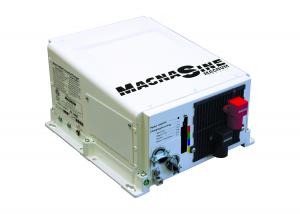 The MS2024 Inverter/Charger – a pure sine wave inverter designed specifically for the most demanding mobile, backup, and off-grid applications. The MS2024 Inverter/Charger is powerful, easy-to-use, and best of all, cost effective.
Power Factor Corrected (PFC) Charger: Our PFC charger is built into all of our inverter/chargers. It uses less energy from a generator than a standard charger – using 25-30% less AC current than standard chargers.
Easy-to-install: Install the MS Series in four easy steps: simply connect the inverter's output to your distribution circuits or electrical panel, connect your utility power cable to the inverter's easy-to-reach terminal block, connect the batteries, and switch on the power.
Magnum Energy MS2024 Specifications:
Output Power: 2,000W
Output Voltage: 120 VAC
Output Frequency: 60 Hz
Output Charger Amps: 60 ADC
Input Voltage: 24 VDC
Weight: 41 lbs.
Length: 13.75 in.
Width: 12.65 in.
Height: 8.0 in.

**
( ** Click to download and save on your computer. PDF format. Adobe Acrobat viewer required for viewing.)