Deka 8G27 (8G27M) GEL Battery
12 Volt - 88 Amp Hrs - Group 27
Sealed Maintenance Free Deep Cycle Batteries for Marine, RV, EV (Electric Vehicle), Golf Cart, UPS, Inverter, Solar Panel (Photovoltaic), Telcom, CATV and Stand-by Applications
The Deka 8G27 (8G27M) is an American made GEL deep cycle battery. The GEL batteries offer many significant advantages over conventional liquid acid batteries. Because there is no liquid electrolyte to leak or spill out of the battery, the Deka 8G27 (8G27M) can easily be installed in hard-to-reach locations. There is no need to check fluid levels. The Deka 8G27 (8G27M) gelled construction also eliminates vibration damage to plates. These are manufactured by East Penn Manufacturing who also manufactures batteries under the name MK Battery.
The Deka 8G27 (8G27M) is a direct replacement for any group 27 lead-acid, GEL, or AGM batteries.
Warranty is for 1 year free replacement.
Deka 8G27 (8G27M) GEL Battery Specifications:
Nominal Voltage: 12V
Amp Hour Capacity @ 20 hr rate: 88 a/h
Reserve Capacity @ 25 amp discharge rate: 170 mins
BCI Group Size: 27
Marine Cranking Amps @ 32* F: 700 amps
Cold Cranking Amps @ 0* F: 505 amps
Weight: 63.2 lbs
Length: 12 3/4 in.
Width: 6 3/4 in.
Height: 9 7/8 in.
Terminal Type: dual terminals (autopost and stud)
**
( ** Click to download and save on your computer. PDF format. Adobe Acrobat viewer required for viewing.)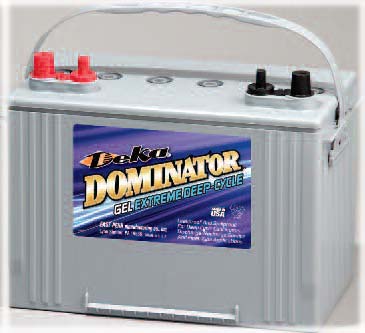 ---