Deka 8AGC2 (8AGC2M) AGM Battery
6 Volt - 190 Amp Hrs - Group GC2 (Golf Cart)
Sealed Maintenance Free Deep Cycle Batteries for Marine, RV, EV (Electric Vehicle), Golf Cart, UPS, Inverter, Solar Panel (Photovoltaic), Telcom, CATV and Stand-by Applications
The Deka 8AGC2 (8AGC2M) is an American made AGM (absorved glass-mat) deep cycle battery. The AGM technology allows for a completely sealed maintenance-free battery with no sulfuric acid leaks, no acid clean up, and more power in the same space when compared to conventional batteries. It has an under 2% per month self discharge rate. These are manufactured by East Penn Manufacturing who also makes batteries for MK Battery.
The Deka 8AGC2 (8AGC2M) is a direct replacement for any GC2 (Golf Cart) size lead-acid, GEL, or AGM batteries.
Warranty is for 3 months free replacement.
Deka 8AGC2 (8AGC2M) AGM Battery Specifications:
Nominal Voltage: 6V
Amp Hour Capacity @ 20 hr rate: 190 a/h
Reserve Capacity @ 25 amp discharge rate: 409 mins
BCI Group Size: GC2 (Golf Cart)
Marine Cranking Amps @ 32* F: 900 amps
Cold Cranking Amps @ 0* F: 680 amps
Weight: 69.5 lbs
Length: 10 1/4 in.
Width: 7 1/8 in.
Height: 10 7/8 in.
Terminal Type: offset post with horizontal stud
**
( ** Click to download and save on your computer. PDF format. Adobe Acrobat viewer required for viewing.)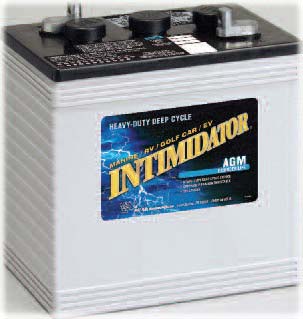 ---